About Ashley Haynes Butchery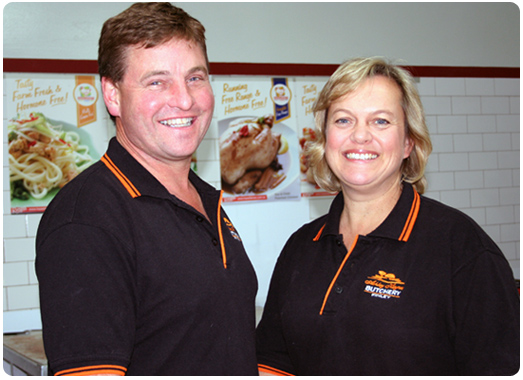 The first Haynes Butchery opened its doors in Tocumwal on the Murray River in the 1950's. Run by Norman Haynes, from a pioneering farming family of the area, he began as the local "Butcher's Boy" at age 16.
The first Haynes Butchery also had an ice factory at the rear of the shop, which kept the fridges cool and provided an extra source of income. Deliveries of both meat and ice were made to local households each afternoon.
All local stock was processed at their own abattoir site in Tocumwal until the 1970's, when these operations moved to the larger centre of Cobram.
Two of Norman's sons, Murray and Robert, took over the butchery business in the 1960's. Murray ran the Tocumwal shop, now run by his son Mick, and Robert who moved north to Finley, where he and his wife Patricia opened for business.
Robert's eldest son, Ashley, bought the Butchery in 1992 and renamed it Ashley Haynes Butchery. Since purchasing the business, the shop has been refitted with all modern processing equipment and efficient temperature and humidity controlled display cabinets.
Ashley and his wife Ruth (pictured) continue to provide the same friendly service to the community that was offered by his forefathers, a service people have come to know and expect.
Accreditation
Australian Meat Industry Council
Independant Local Butcher
Q-Award is a quality assurance link designed by the Australian Meat and Livestock Association (MLA).
The Q-award program ensures that Australian quality standards are maintained from farm to consumer.
Visit the products section of this website for our instore range. Free home delivery is available in the Finley area.